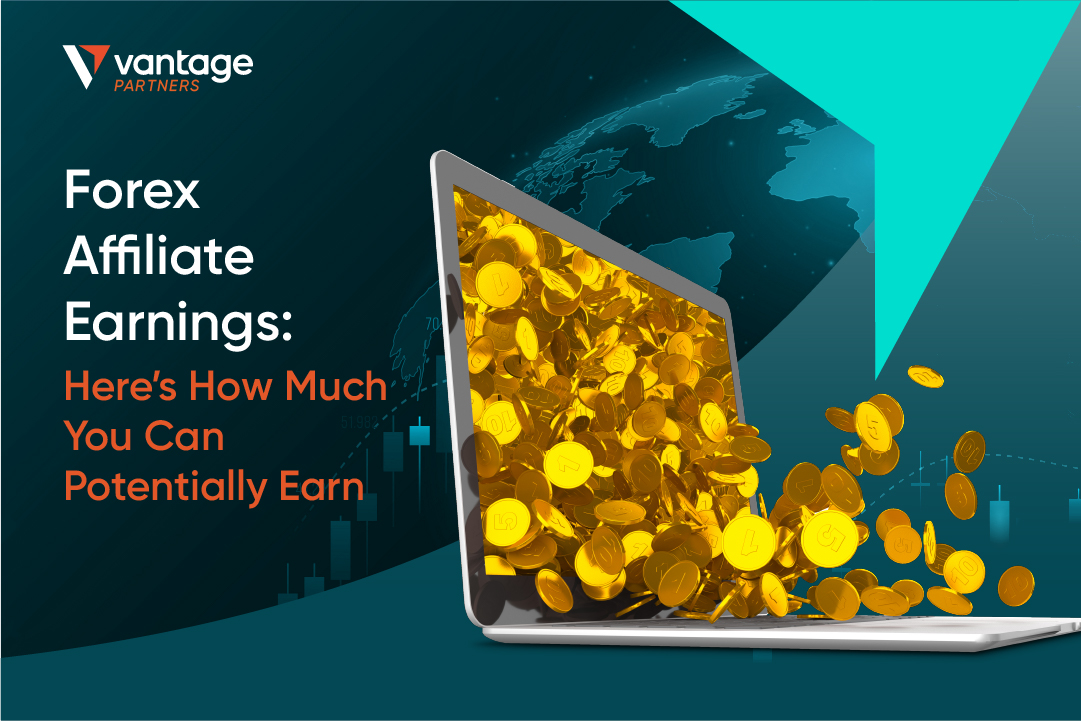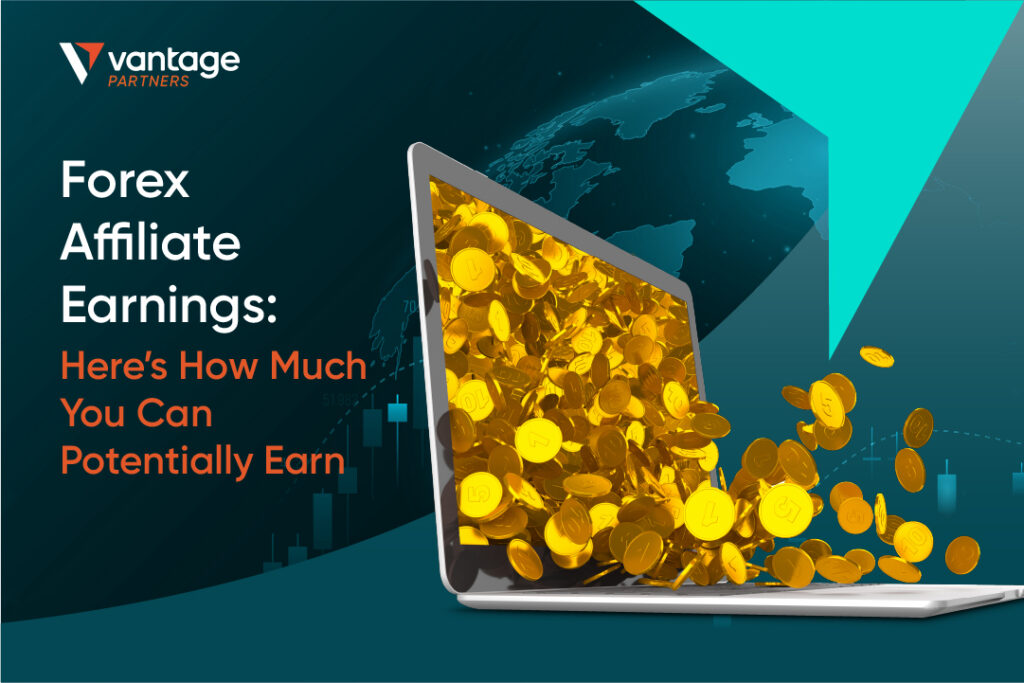 Forex affiliates can potentially generate a good source of income by joining affiliate programs. Forex brokers offer these partnership programs to help them advertise their services and products to new audiences. Various types of forex affiliate programs are available such as revenue sharing, cost per action (CPA), and cost per lead (CPL).
This article will uncover how much you can potentially earn as a forex affiliate when you partner up with Vantage under their CPA Affiliate Program.
What is the Vantage Partners Program
Since its inception, Vantage Partners has become one of the largest and most rewarding partnership programs. Each month, the program pays out an increasing amount of CPA and rebates to its vast network of successful Affiliate Partners. Affiliate partners are able to access a full range of financial products such as shares, forex, commodities, precious metals and cryptocurrencies via CFDs. 
To begin promoting as a forex affiliate under Vantage, you can first sign up for the Vantage Forex Affiliate Program and start earning.
Vantage Forex Affiliate Program
The Vantage Forex Affiliate Program is designed to help you derive earnings from every qualified client you refer to Vantage while enjoying the benefits of a proper CPA management system. By using the CellXpert, you can easily monitor all your referrals, commissions and track your performance.
Why join the Vantage Forex Affiliate Program?
Highly competitive commission and payout structure
Transparency in payout for affiliates
Approachable affiliate manager
Provides high-quality advertising material
Key Benefits of Vantage Forex Affiliate Program
Reputable broker with more than 10 years in the market
Cellxpert and performance dashboard provided to accurately track your performance
Besides the strengths listed above, the support provided by the affiliate managers is a key factor that separates Vantage from other forex affiliate programs. Our affiliate managers are there to support all affiliates 24/5, assisting with the platform's functionalities or CellXpert, and answering queries, if any. The affiliate managers are also there to help partners understand more about the affiliate program and provide recommendations on what deal could work better for their business model.
How do Forex Affiliates Make Money?
Forex affiliates earn when they successfully bring in customers to the broker. This is often achieved through the promotion of products or services that the broker offers.
When a customer signs up, the affiliate may receive a one-time commission, usually determined by the size of the initial deposit – a model sometimes referred to as a CPA affiliate program. Alternatively, they may receive a percentage of the trades the customer executes moving forward.
How Much do Vantage Forex Affiliates Potentially Make?
If you're an affiliate that gains leads and new customers from tier 1 countries*, you can potentially earn up to $800 CPA payout per client under your referral.
There is also a monthly bonus, depending on the number of qualified clients under your referral. Terms and conditions apply.
Tier 1 countries are subject to changes from time to time.
Monthly Bonus Qualification
To qualify for the monthly bonus, you must:
Refer a minimum of 30 Qualified First Time Deposits (QFTDs) per month to be eligible for the $3,000 bonus; or
Refer a minimum of 50 QFTDs per month to qualify for the $10,000 bonus.
A QFTD is an account referred by a CPA affiliate from Vantage approved country list who successfully deposits at least $500 and trades a volume of at least 2 standard forex lots.
The monthly bonus is only available for tier 1, tier 2 and tier 3 countries selected and listed by Vantage.
Apart from that the requirements listed above, the total net deposits for the month have to reach minimum of 2.5 times of your monthly CPA commission total.
For example, if you refer 56 QFTDs from tier 1 countries to Vantage. You can potentially get the monthly bonus of $10,000 as long as the QFTDs deposits $84,000 in total!
Example of the calculation:
Total monthly commission = 56 QFTDs x $600 = $33,600
Monthly net deposit required to qualify for $10,000 monthly bonus = $33,600 x 2.5 = $84,000
Another example if you refer 35 QFTDs from any tier 1 countries:
Total monthly commission = 35 QFTDs x $600 = $21,000
Monthly net deposit required to qualify for $3,000 monthly bonus = $21,000 x 2.5 = $52,500
The monthly bonus is cumulative, which means that Vantage will pay the bonus for each 30 or 50 QFTDs if the total net monthly deposits are a minimum of 2.5 times their monthly CPA commission total.
Potential Total Earnings
Refer more clients to Vantage and earn more commissions. When you bring in 50 QFTDs for the month, you can potentially earn a total monthly payment up to $40,000. 
Here is an example of the calculation for the total potential earnings:
CPA owed for the month 50 QFTDs x $600 = $30,000
Total net deposits required to trigger the $10,000 monthly bonus = $30,000 x 2.5 = $75,000 
Total monthly payment = $30,000 + $10,000 = $40,000
Another example of the potential total earnings if you were to bring in 35 QFTDs:
CPA owed the month 35 QFTDs x $600 = $21,000
Total net deposits required to trigger the $3,000 monthly bonus = $21,000 x 2.5 = $52,500
Total Month Payment = $21,000 + $3,000 = $24,000
All the calculations above are based on the tier 1 country list. For tier 2 and tier 3 countries, the CPA value used will be $400 and $300.
In addition, you can also refer to the Vantage website here where there is a slider that helps you calculate the average income you can make as a Vantage CPA affiliate partner, based on the number of clients you are able to bring in.
How to Grow your Forex Affiliate Earnings
As a forex affiliate marketer, we know that your ultimate goal is to maximise the potential earnings from your marketing efforts. To help you better achieve your aims, here are some considerations to keep in mind, to help you make the most out of your affiliate marketing journey.
Social media platforms are a fantastic way to amplify your reach and engage with a larger audience. Be active, create compelling content and engage with your followers. The more you build your online presence, the more traffic you can drive towards the broker, increasing your potential earnings.
Increase your search visibility and drive organic traffic to your site by optimising your content with relevant keywords. Regularly updating your blog with fresh, SEO-friendly content also contributes to this. Learn more about how you can improve your SEO as a forex affiliate here.
Going into a forex affiliate business, it is inevitable that your earnings can fluctuate, much like a salesman or realtor that relies on commissions.
However, the good news is that following a structure and maintaining consistency in your efforts can potentially help in steadying growth in your earnings. Start by setting realistic goals and plan how you're going to meet them. This is especially crucial if you're just starting out. Start with a small target and then build your goals up from there.
In order to effectively market your broker's services, you need to understand your audience's needs and preferences. Are they looking for solutions to their problems or informative content? Once you figure that out, tailor your content and marketing messages to address these needs.
Part of being a forex affiliate marketer involves building relationships. When you are a part of a community, you'll be able to learn from others, broaden your network, and enhance your knowledge. Moreover, it ensures you are up to date with current market trends and shifts, allowing you to adjust your marketing strategies accordingly and stay ahead of the curve. This can assist in producing valuable content for your audience.
How To Get Started as a Vantage Forex Affiliate?
Here's how you can get started as a Vantage Forex Affiliate:
Complete the registration form with all the necessary information that Vantage requires. 
2. Upload the required documentations
You are required to upload proof of identification and address for the Vantage Know Your Customer (KYC) check. To confirm your identification, you can upload a copy of your passport, driver's licence (front and back) or National ID Card. To verify your proof of address, you can upload a copy of the utility bill or bank statement dated within three months.
Upon successful submission of your proof of identity and address, you will be directed to the Partnership Agreement page. 
3. Read through the Affiliate Partnership Agreement
Once you've uploaded the required documentation, you are required to read through the affiliate partnership agreement before submitting the form. Tick on the box if you agree to all the terms and conditions of this agreement and submit this form.
4. Await the review and approval of your application
Once you've completed and submitted all the essential documents required by Vantage, your application will be reviewed. A designated account manager will contact you within one to three business days to finalise the account and let you sign the contract. Once the account is created and approved, you can start to refer new clients and share the marketing materials that carry your unique affiliate ID with your audience to begin earning. 
Vantage CPA Forex Affiliate
Vantage proudly presents its award-winning affiliate programs, serving partners from across 150+ countries. Our forex affiliate program stands as one of the industry's most lucrative, empowering partners to earn up to $800* for every client referral. Embrace the future of earnings – join Vantage today and start your journey to financial success! 
As a Vantage forex affiliate partner, you would have free access to CellXpert, an advanced marketing platform. This platform offers affiliates a complete toolkit for monitoring clicks and conversions, overseeing campaign effectiveness, and notably, accessing clear profit reports.
Sign up as a Vantage CPA Forex Affiliate here.