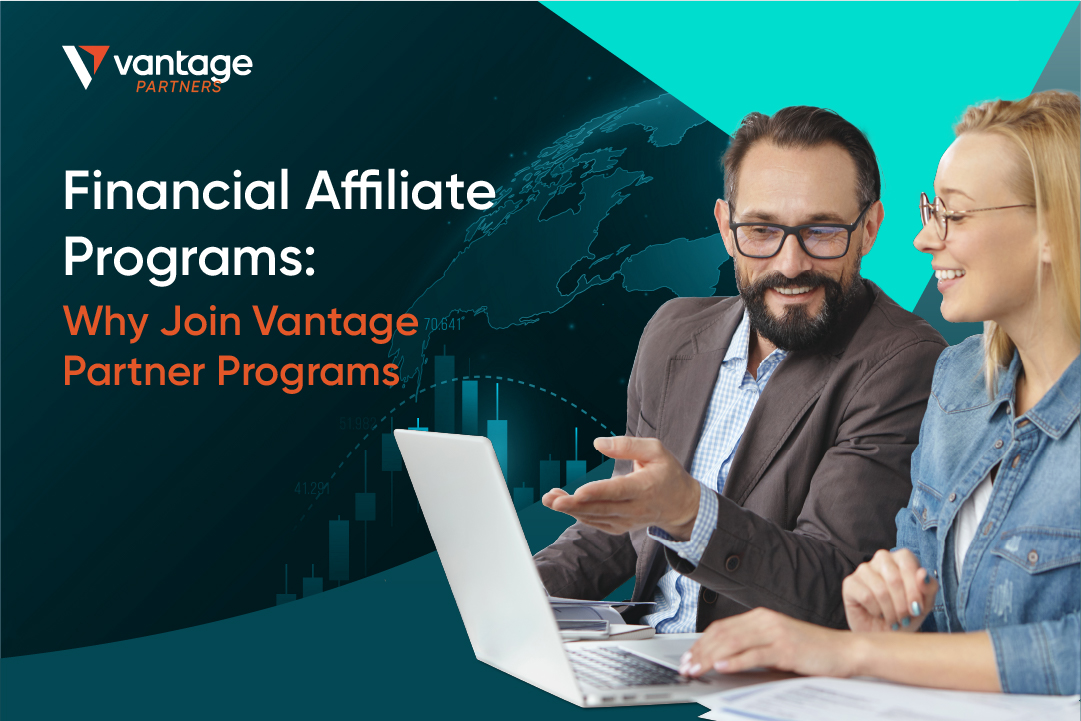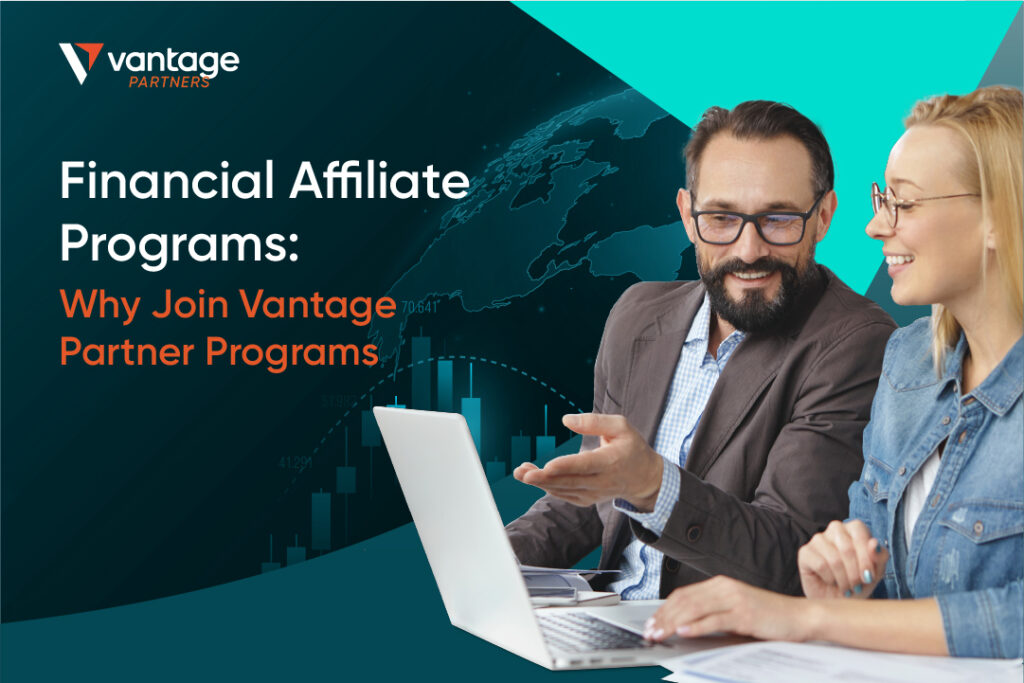 Are you considering joining a financial affiliate program but not sure who to choose or where to start? It will be made easier for you as we walk you through Vantage Financial Affiliate Program in this article.
What are Finance Affiliate Programs? 
Affiliate marketing is a type of advertising in which a company pays third-party publishers to generate traffic or leads to its products and services. Third-party publishers are affiliates, and by generating a positive outcome, the affiliates are entitled to commission fees.
Finance Affiliate Programs are just like any other affiliate program out there — the only major difference is that its niche is in the financial market. You don't need to be a certified public accountant or financial adviser to join a financial affiliate program. In fact, you don't have to be professionally employed in the financial industry at all. All you need to do is find the best program, direct your audience to them, and let us do the rest to close the deal.  
How Does a Financial Affiliate Program Work?
Financial affiliate programs are a bridge between the vast world of finance and the booming sector of affiliate marketing. At its core, a financial affiliate program is a partnership between finance companies or platforms which reward affiliates for directing potential clients their way.
This is achieved when a person clicks on a link or banner provided by the affiliate and takes a specific action on the financial platform, such as signing up for an account or making a transaction. On a platform like Vantage Partners, we make this process seamless, allowing bloggers, influencers, and webmasters to earn a commission by promoting their services to their audience.
The beauty of affiliate marketing financial services is the myriad of options available. Whether it's banking, trading, insurance, or investment products, there's a finance affiliate program that aligns with every niche.
By joining financial services affiliate programs, affiliates not only expand their earning potential but also provide value to their readers or viewers by connecting them with trusted financial products and services. As the demand for financial literacy and tools grows, so does the potential for affiliates to capitalise on this ever-expanding market.
Sign up here to join the Vantage Partners Forex CPA Affiliate Program and join an award-winning affiliate program with complete marketing support.
Why Join Vantage Affiliate Program?
Join us not because of what we say, but instead, what we can offer you.
1. You can always count on us! We promise to be there for you round-the-clock, 24/5, available in your preferred choice of language.
2. You get free access to platforms matched for each program providing you with everything you need. From state-of-the-art Secure IB Portal to CellXpert and AppsFlyer, you'll be covered.
3. Be at peace when you partner with us because we are a globally trusted brand. Take advantage of our global reputation and strong brand recognition, offering your referrals the peace of mind that they'll be joining an industry-leading, regulated broker.
4. Get results-driven strategies and tactics from our dedicated account managers.
5. Choose from our variety of affiliate programs.
As each program differs from the other, they have their own set of benefits. You get to choose the one that suits your needs and evaluate which program would benefit you the most.
What Types of Financial Affiliate Programs Available at Vantage?
1. CPA Affiliate Program
2. Introducing Broker (IB)
Advantages of Joining Vantage as a Financial Affiliate
We aim to bring the company to greater heights with focus on offering competitive and constructive partnership programs. We pride ourselves in being one of the top referral programs in the industry with:
Highly Competitive Commission and Payout Structure
Transparency in Payout for Affiliates
Approachable Affiliate Managers
Joining the right financial affiliate program takes an elaborate consideration. Remuneration aside, it's crucial to ensure that the program is offered by a trustworthy company.
Comprehensive Support Provided by Vantage to Help You Become a Successful Financial Affiliate
Use Proper Marketing Tools
We ensure that you are provided with only the best tools. We pride ourselves in having some of the highest converting marketing tools and creative assets in the industry, all of which are constantly updated to stay ahead of the latest online marketing trends. One of the most crucial aspects of becoming a successful financial affiliate is using proper marketing tools. With Vantage, we provide you with exclusive access to conversion-optimised tool kits and creative assets. Equip yourself with our tools to grow your affiliate marketing business.
Outstanding Customer Support
Vantage has a dedicated client support team to provide support to all clients readily 24/5. Excellent support plays a defining role in determining our success. At Vantage, our dedicated client support team is professionally trained and committed to support you in times of need. From simple requests to functionality-related assistance, technical issues, or urgent enquiries, we'll always have you covered. Ultimately, we aim to do what's best for your business because your success matters.
Join the Fastest Growing Partner Program Now
It's time for you to choose the best for your business. Make a smart move by partnering with Vantage, an award-winning multi-asset broker and expand your business with our partner programs trusted worldwide.
With Vantage, you will not only enjoy bespoke solutions to meet your business needs and objectives but also gain access to a full range of CFD products such as Shares, Forex, Commodities, Precious Metals, and Cryptocurrencies.
Have a strong online presence? Leverage our CPA Affiliate program to monetise your audience. Sign up for the CPA Affiliate Partner Program.
Or perhaps you have access to a strong trader audience. In that case, the Introducing Broker program will allow you to earn attractive volume-based rebates.